Have you been thinking about hiring a Bergen County slate roofing contractor to install a slate roof on your home? Slate roofing is a premium, beautiful material that is also one of the most durable roofing materials available. Unlike asphalt shingles, slate has been utilized by builders for centuries on historic buildings, residences, and businesses because its look never goes out of style and slate retains its value much better than other options. If you are in charge of specifying materials for a new building project, slate should be on your list of options! It is also fire and insect-resistant, eco-friendly, and naturally sourced. If you're considering slate roofing for your Bergen County, NJ home or business, here's everything you need to know about the material and installation, plus some inspiring design ideas and essential tips for upkeep.
Bergen County Slate Roofing | What is It?
Slate roofing shingles are excavated from the ground and are among the first roofing materials used during human history as civilizations spread across the world. Slate is formed out of fine clay compressed by the weight of the earth, which transforms it into shale and then slate. When the slate is harvested, it is quartered along the layers so that it can be used for different purposes. The larger pieces are used for things such as countertops, blackboards, electric panels, and flooring while the small pieces are made into shingles by hand or machine. There are several roofing materials to consider before you make your final decision. Asphalt shingles are popular because they're cheap, but that may not be the best long-term solution for your home.
Slate roofing is prevalent on Bergen County homes of distinction and would be the preference for most people if finances were no issue. Slate is virtually impenetrable to water, extremely durable, and has been referred to as the "Rolls Royce" of roofing materials or the "lifelong roof" by some. Installing a Bergen County slate roof will likely be your first and last experience with roofs.
Slate Roofing in Bergen County | How Long Will a Slate Roof Last?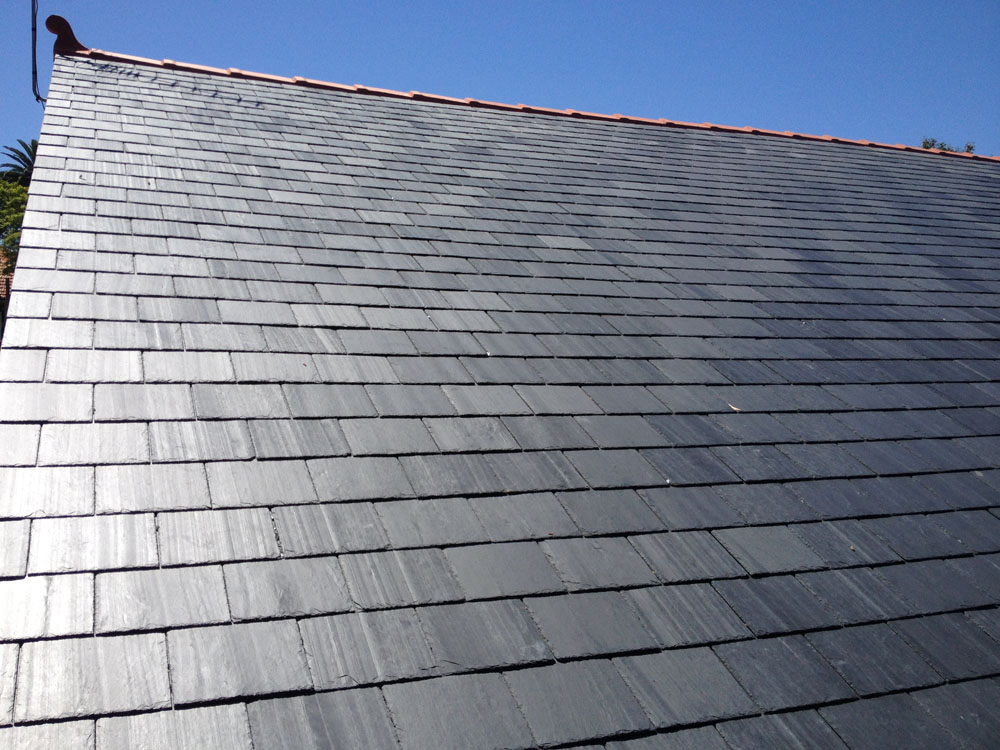 The lifespan of a slate roof in Bergen County depends on whether it is classified as hard or soft. Hard slate can last 75-150 years, while soft slate has a shorter lifespan of about 50-90 years. The origin of the slate and how well the roof has been maintained are also important factors to consider. The slate mined in Vermont and New York is primarily hard, while the soft slate originates from Pennsylvania. Because slate is a natural product, it generally does not come with its own warranty. The Bergen County slate roofing contractor you hire will typically provide the warranty instead. Make sure to check that your roofer offers a lifetime warranty and has been in business long enough for that guarantee to mean anything.
Less ethical NJ slate roofing companies may tell you that your slate roof needs replacing when all you need is some upkeep. With the skills to correctly assess a roof's condition, it takes years to become a skilled slate roof installer. Consider getting an inspector to have a look at your slate roof if your slate roof Is less than 30 years old; It can save you a lot of time, money, and effort.
Pros & Cons of a Slate Roof in Bergen County, NJ
As with any roofing material, there are pros and cons that come with having slate roof. We'll review them in this section.
Pros of slate roofing:
It is a natural product.
It can be recycled as roofing again, making it eco-friendly.
Slate is naturally fire-resistant.
Slate is a beautiful roofing material.
It has a reputation for being used on the most admired dwellings.
It is one of the most durable roofing tiles available.
It is resistant to insect infestation.
Cons of slate roofing:
A slate specialist will be needed for the installation. Regular roofing contractors are not qualified to install slate.
Slate is heavy. If you are building a new home, the roof must be engineered to carry the weight (up to 4 times as heavy as asphalt shingles).
If you are putting a new roof on your existing home, you will need to have an engineer review your roof structure to determine if it will carry the increased weight. If the structure needs additional support, it can substantially impact the project's cost.
Slate is strong, but it is brittle. Heavy objects (such as large hail) can cause damage.
Slate roofing specialists will need to do the repairs since the same equipment will be needed to access the roof and complete the repairs.
Slate is not easy to walk on and can be dangerous when wet.
Looking for a Great Roofer Who Specializes in Slate Roofing in the Bergen County, New Jersey Area?
If you're searching for a professional, experienced, and reputable NJ roofer who specializes in all types of slate roofing, check out LGC Roofing today! LGC Roofing is a family owned and operated roofing contractor that has been serving the New Jersey area for over 30 years! We are full service NJ roofing company handling both residential & commercial projects, large and small. Whether you need simple roof repair or complete roof replacement, we are your top quality NJ roofer. We are fully insured and licensed to do roofing and siding work in New Jersey. We are certified to install variety of roofs from shingle to cedar shake to slate. Our service areas in the Bergen County area include: Rutherford, Lodi, Ramsey, Englewood, Saddle River, Glen Rock, Tenafly, Teaneck, Paramus, Ho-Ho-Kus, Little Ferry, Franklin Lakes, Alpine, and many more. If you're looking for more information, you can contact us today at (609) 712-8157 or visit our home page.