Are you looking for an experienced roofer for Middlesex County slate roofing services? A slate roof can make an excellent addition to any home. They're aesthetically pleasing, weather and fire-resistant, and can last more than a lifetime if properly installed. Not only that, installing a slate roof on your home will boost your property's resale value. Now with all of that said, it's imperative that you hire a roofer who has the necessary skills and experience to install slate roofing. The process for a slate roof differs from that of an asphalt shingle roof, so you need someone who specializes in slate roofing to ensure everything is done properly. If you're looking for reliable slate roofing services in Middlesex County, NJ, below are some tips to help.
Middlesex County Slate Roofing Services | Tips for Finding an Excellent Slate Roofing Contractor in NJ
Start your search for a slate roofer with local referrals. Ask friends, family members, and neighbors who have had slate roofs installed to recommend a qualified roofer. Online reviews can also be helpful when researching potential contractors. Just remember that not all reviews are reliable; take the time to read through them carefully before deciding on a contractor.
Make sure the contractor is properly licensed and insured. Before signing any contract, confirm that the slate roofing company you are hiring is properly licensed to work in your area and carries liability insurance that will protect both them and you in the event something goes wrong with the job.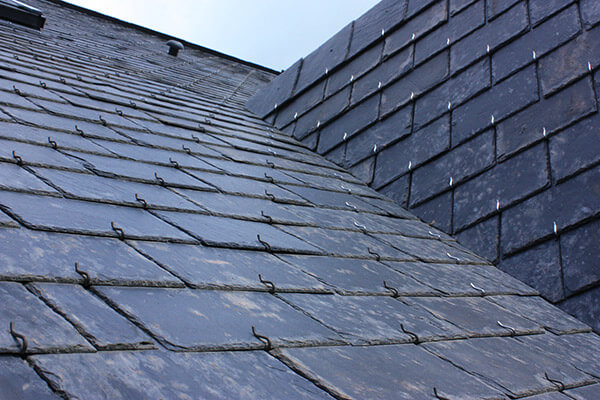 Make sure the roofer is experienced with slate roofs. Installing a slate roof requires special knowledge and experience, so it's important to find someone who specializes in this type of work specifically. Ask potential contractors about their experience level and whether or not they have installed any similar projects in Middlesex County recently. This will give you an idea of what kind of quality results you can expect from them.
Ask for references from past clients. A reputable slate roofer should have no problem providing references from happy customers who they've done work for before. Contact these references to get an idea of what it was like working with them and if they were satisfied with the results of their project.
Get written estimates for comparison purposes. Once you've narrowed down your list of potential contractors, ask each one to provide a detailed estimate that includes materials, labor costs, and other related expenses such as cleanup or debris removal fees. Compare the various estimates side-by-side in order to determine which one offers the best value for your money.
Ask about warranties and guarantees. Make sure the slate roofing contractor you ultimately choose offers a warranty or guarantee on their workmanship. This will ensure that if anything goes wrong with your new roof, they will be held responsible for fixing it at no additional cost to you.
Schedule an inspection after installation is complete. Once the project has been completed, have a qualified inspector come out and take a look at the finished product to make sure everything was done properly. This step is important in order to ensure that not only were you satisfied with the quality of the work, but that all local building codes were followed as well.
By following these tips, you should have no trouble finding quality slate roofing services in Middlesex County. With a little research and due diligence, you can be confident that you've made the right choice and will enjoy home's new slate roof for years to come.
Looking for an Experienced Roofer Who Specializes in Slate Roofing Services in the Middlesex County, New Jersey Area?
If you're searching for a professional, experienced, and reputable Middlesex County roofer who specializes in installing slate roofs, check out LGC Roofing today! LGC Roofing is a family owned and operated roofing contractor that has been serving the New Jersey area for over 30 years! We are full service NJ roofing company handling both residential & commercial projects, large and small. Whether you need simple roof repair or complete roof replacement, we are your top quality NJ roofer. We are fully insured and licensed to do roofing and siding work in New Jersey. We are certified to install variety of roofs from shingle to cedar shake to slate. Our service areas in the Middlesex County area include: Edison, Piscataway, Woodbridge, East Brunswick, Old Bridge, Colonia, South Amboy, Cranbury, South River, North Brunswick, Highland Park, Helmetta, South Brunswick and many more throughout the Central NJ area. If you're looking for more information, you can contact us today at (609) 712-8157 or visit our home page.