Will your Morris County, NJ roof need to be replaced soon? After traditional asphalt shingles, slate is one of the most popular types of material used for roofs in the New Jersey area. Made from natural stone, slate is a very attractive and long-lasting roofing material that offers an array of benefits. That said, like most things, there are also some downsides that come with installing a slate roof on your home, making it not the best option for everyone. So, is slate roofing the right choice for your next roof installation? Below, we will go over the pros and cons of having slate roofing in Morris County, NJ.
Morris County Slate Roofing | Pros and Cons of Installing a Slate Roof in NJ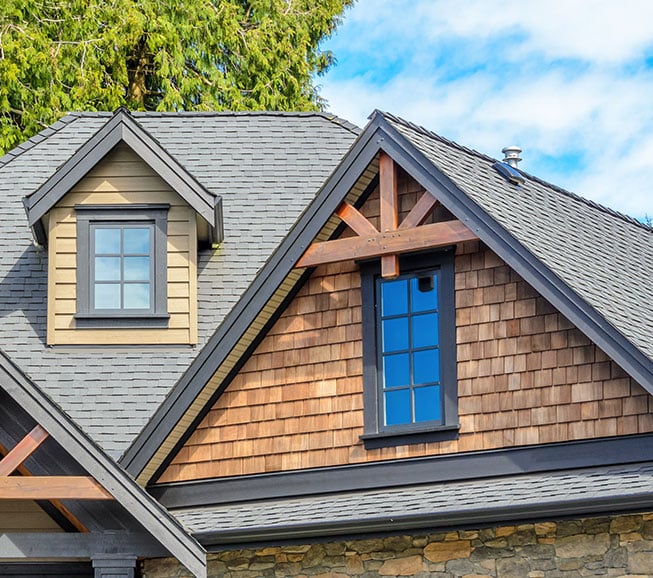 One of the biggest advantages that comes with Morris County slate roofing is its durability. Slate roofs can easily last for over a hundred years, making them a great long term investment. Unlike asphalt shingles, slate is not susceptible to typical wear and tear, such as cracking or fading in color. Additionally, slate's natural stone composition makes it fireproof and able to withstand severe weather conditions that often occur in our area.
Another perk of slate roofs is their aesthetic appeal. The unique texture and rich colors of slate add visual interest to any home and can increase property value. Plus, slate requires little maintenance and rarely needs repairs.
However, there are also some downsides to consider before installing a slate roof on your Morris County home. One of the biggest drawbacks is slate's high price point. Slate roofing materials and installation can cost up to four times more than traditional asphalt shingles. In addition, slate can be heavy and difficult to install, requiring specialized equipment and experienced labor.
Overall, Morris County slate roofs offer a number of benefits, particularly in terms of durability and appearance. However, it's important to weigh all factors before deciding if this type of roofing material is right for your home and budget. It's always best to consult with a professional roofing contractor who can advise you on the best option for your specific needs.
Looking for a Roofer Who Specializes in Slate Roofing in the Morris County, New Jersey Area?
If you're searching for a professional, experienced, and reputable Morris County roofer who specializes in slate roofing, check out LGC Roofing today! LGC Roofing is a family owned and operated roofing contractor that has been serving the New Jersey area for over 30 years! We are full service NJ roofing company handling both residential & commercial projects, large and small. Whether you need simple roof repair or complete roof replacement, we are your top quality NJ roofer. We are fully insured and licensed to do roofing and siding work in New Jersey. We are certified to install variety of roofs from shingle to cedar shake to slate. Our service areas in the Morris County area include: Chester, Mendham, Mount Olive, Pennington, Princeton Township, Hopewell, East Windsor, Robbinsville, Hightstown, Windsor, Groveville, Trenton, and many more. If you're looking for more information, you can contact us today at (609) 712-8157 or visit our home page.