Have you ever thought about installing a slate roof on your Ocean County, NJ home? A slate roof is a high-end roofing material that is constructed mostly of natural slate tiles and other slate roofing materials. Slate is one of the most attractive and long-lasting roofing materials available. It has such a desirable look that some asphalt shingles are made to mimic the appearance of a slate roof since to its beauty. The slate is mined and cut into rectangular tiles. Slate tiles are not available in 3ft wide strips or metal panels, as other roofing materials do. As a result, replacing your old slate roof with a new one is a very time-consuming process. After reading this Ocean County slate roof article, you'll learn what a slate roof is, why it's such an attractive choice for homes, as well as some things you need to know before getting one.
Ocean County Slate Roof | Things to Know About Slate Roofing in NJ
1. Your home must be able to support the weight of a slate roof :
Slate roofs are quite hefty. Because of this, your home will have to be constructed or framed in order to support the weight of the slate tiles. This prevents your walls from falling out and your roof from caving in. If you can't make your home able to withstand the slate's weight as is, you'll have to retrofit it to hold the weight. Before the roof can be put in, it has to be approved by a structural engineer, and it must be completed before the roofing materials arrive. If you have to retrofit or add new framing, your new slate roof will cost considerably more. If you're considering a slate roof in Ocean County, NJ, be sure to inquire about the weight factor and how retrofitting your property will influence the cost of it.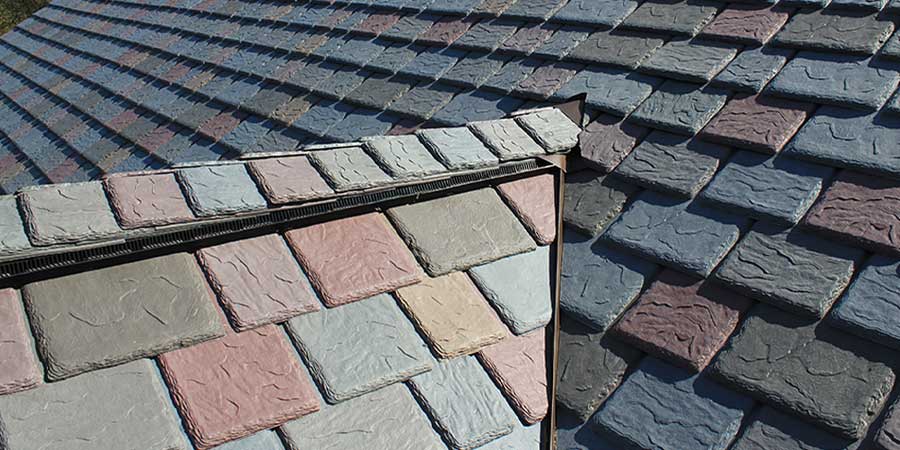 2. Slate is among the most costly roofing materials:
Slate roofs are one of the most durable and longest-lasting roofing products available. However, it is also one of the most costly kinds of roofing materials. A slate roof in Ocean County can cost you around four times more than an asphalt roof. If you want to save money, a slate roof is not the best option for you. That said, if you're searching for a beautiful roof that will endure and you can afford it, it'll be the last roof you ever install.
3. Hire an experienced & professional Ocean County slate roofing company:
Hiring a reputable Ocean County roofing contractor is critical to the success of your slate roof. You shouldn't have to worry about your slate roof again as long as it is installed and flashed correctly. That is why hiring a local roofing contractor that has prior experience with slate roofs is so important to your investment. Because it requires an expert roofer or someone who has been trained properly to handle and install the slate tiles, this is the case. Because they're easily breakable, each tile must be handled with care. If the installers don't know how to do this, the slate tiles will shatter, you'll have problems (leaks), and your roof's lifespan will be shortened.
Your contractor has a huge part in the life you get out of your slate roof, whether it's repairs or a full roof replacement. However, looking for evidence of good roof installation is only one aspect to consider when selecting a local roofing contractor.
4. A Slate roof won't come with a material warranty:
When you invest in a new roof, you'll get two warranties: one from the contractor and one from the manufacturer. Slate tiles, on the other hand, are entirely natural and do not come with a manufacturer's warranty. You're left to rely on your contractor's workmanship guarantee for your slate roof. Because of this, it's critical to choose a reputable local roofing company that backs up their work. A contractor's workmanship warranty can range from a tail light guarantee (as soon as you notice their company truck's tail lights go out, your warranty expires) to a two-year, five-year ten-year, or even lifetime guarantee. To get the best Ocean County slate roof possible, you should always look for a contractor that offers you a good warranty.
Looking for an Experienced Roofer to Install Your Slate Roof in the Ocean County, New Jersey Area?
If you're searching for a great Ocean County NJ roofer who specializes in slate roofing, check out LGC Roofing! LGC Roofing is a family owned and operated roofing contractor that has been serving New Jersey for over 30 years! We are full service NJ roofing company handling both residential & commercial projects, large and small. Whether you need simple roof repair or complete roof replacement, we are your top quality NJ roofer. We are fully insured and licensed to do roofing and siding work in New Jersey. We are certified to install variety of roofs from shingle to cedar shake to slate. Service areas in the Ocean County area include: Point Pleasant, Toms River, Jackson, Little Egg Harbor, Bay Head, Manchester, Manahawkin, Seaside Heights, Lakewood, Brick, Stafford, and many more. For more information, contact us today at (609) 712-8157 or visit our home page.