Are you considering installing slate roofing in Union County, NJ? Natural slate shingles provide homes a timeless aesthetic that will be sure to make them stand out amongst the rest. Metamorphic rocks, such as clay or volcanic ash, are compressed to create thin sheets of slate which can come in uniform or varied sizes with an array of colors – giving homeowners plenty of options for customization. But it doesn't end there; Union County slate roofing will require little upkeep over the years and can last more than a century!
The earliest documented slate roof originated in England and dates back to around 1300 A.D., but the unique style of roofing didn't become commonly used until after large-scale stone quarrying began in America. However, when asphalt shingle production became more cost effective than traditional slate roofs, it caused a decrease in popularity for this type of roofing material – until now! Slate is making a comeback due not only to its use as an ideal choice for restoring vintage homes but also because many new construction projects are utilizing it as their primary form of roofing; providing buildings with that classic look we know and love.
Benefits of Union County Slate Roofing
Although the initial investment of Union County slate roofing may seem costly compared to other types of roofing, it is worth every cent as you will reap its many benefits in the long run. Invest now for superior quality that pays off!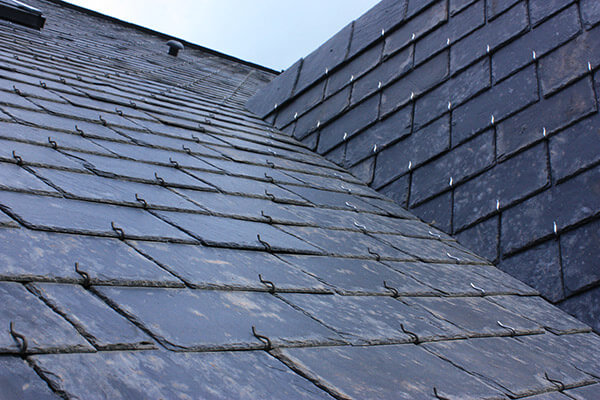 A Multitude of Options to Customize:
Slate is a versatile natural stone, which can be easily carved into different shapes and sizes to create beautiful geometric designs. You can mix-and-match textures, lengths, widths and thicknesses – or even introduce multiple colors – giving your home an added depth of character. The color of slate depends largely on where it's sourced from; Virginia & Quebec produce hard black slates that don't fade in time while Vermont offers semi-weathering greens, grays, reds purples and blacks.
Easy to Maintain and Durable:
Investing in a quality slate roofing in Union County, NJ will provide your home with superior protection against water, fire, fungi, temperature fluctuations and unpleasant weather conditions. Not to mention the savings on costly maintenance fees that come along with lesser quality materials! Have peace of mind knowing you'll never have to worry about mold or mildew buildup ever again.
Made to Last a Lifetime:
With a lifespan ranging from 50 to 200 years, it is no wonder why slate roofing has become an increasingly lucrative option for Union County residents who don't want to bother with reroofing in their lifetime. Additionally, as a natural material that remains recyclable after its use atop your home, choosing a slate roof comes with many sustainable benefits. In comparison, asphalt roofs typically last around 20-30 years – far shorter than the life of any slate shingle.
Typical Cost of Slate Roofing in Union County:
Premium Union County slate roofs are among the most costly roof materials available on the market. Installation material costs vary between $5 and $30 per square foot, while labor fees amount to approximately  $50 to $100 an hour or up to $15 a square foot.
If you are considering purchasing slate, the cost can range depending on what type of slate is chosen. Hard slate tends to be more long-lasting and usually costs an average of $15 per square foot; however, soft slates may not last as long but have a lower price tag at around $10 per square foot.
Synthetic slate is an affordable alternative to natural slate, coming in at just $7-$10 per square foot. It's crafted from clay, ceramic or concrete and much lighter than the real thing! Not only will it keep costs down for labor (or medical bills if you're doing things yourself), but its affordability comes with a few trade-offs – synthetic slate doesn't boast water resistance nor extraordinary longevity like its organic counterpart.
Note that many Union County slate roofers use the phrase "per square" when discussing their pricing. A single "square" actually refers to 100 square feet of shingle material! Knowing this can help you estimate your contractor's fees.
Looking for a Highly-Experienced Slate Roofer in the Union County,New Jersey Area?
If you're searching for a professional, experienced, and reputable NJ roofer who specializes in all types of slate roofing, check out LGC Roofing today! LGC Roofing is a family owned and operated roofing contractor that has been serving the New Jersey area for over 30 years! We are full service NJ roofing company handling both residential & commercial projects, large and small. Whether you need simple roof repair or complete roof replacement, we are your top quality NJ roofer. We are fully insured and licensed to do roofing and siding work in New Jersey. We are certified to install variety of roofs from shingle to cedar shake to slate. Our service areas in the Union County area include Scotch Plains, Mountainside, Fanwood, New Providence, Berkeley Heights, Springfield, Summit, Clark, Westfield, Cranford and many more. If you're looking for more information, you can contact us today at (609) 712-8157 or visit our home page.